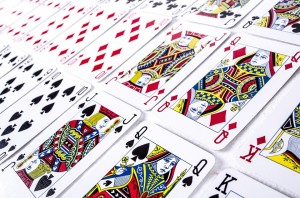 We are a three Swedish guys who has more than 10 years of experience playing online. At first, we liked betting online, but when more and more casinos popped up we noticed how much we enjoyed playing slot machines. Since the payout percentage on slot machines often is around 96 percent we thought there must be a better way to earn money.
Erik, who had a bit of experience in live poker, started playing video poker and noticed that the payout percentage was really high and that you could actually beat the casino. Of course, in video poker, you have to be more patient than playing on slot machines to earn big money. That is if you compare to slot machines with a jackpot. But we noticed that we enjoyed playing the game, so it didn't matter.
It was also Erik who took the initiative to write this blog, but all three of us will share our experiences. We have all earned some money playing video poker, although we have made a few losses along the way. Our main goal have always been having fun playing, but we also enjoy winning! We don't play what we can't afford loosing and a good thing about video poker is that you will have extremely bad look to us your entire savings.
Our two favorite games are Jacks or Better and Deuces Wild. Jacks or Better can have a payout percentage of over 99,5 percent, which is really good. Playing Deuces Wild it can be even higher!
All three of us like to play video poker in a real casino, like the ones in Las Vegas, but our favorite is to play online. That's because you nowadays can play everywhere and decide if you want to play alone or in the company of others. Or just have a go on the bus or in the waiting room at the dentist. Also, there are a lot of bonuses and promotions to collect online. A lot of bonuses doesn't apply on video poker though, since the payout percentage is to high. That's a shame. But if we find any good promotions along the way, we promise to let you know.
Please contact us if you have any requests on what we shall write about.