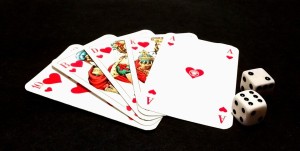 Here are a few games that we'll enjoy playing and some of them we might describe better in our blog. At least the once we like the best 🙂
Games:
Aces and Faces
Deuces Wild
Double Joker
Jacks or Better
Joker Poker
Tens or Better
Bonus Poker
Double Bonus Poker

The most common game is Jacks or Better and just as the name applies you have to have Jacks or Better to win a prize.
Here is the ranking in Jacks or Better:
Royal Flush
Straight Flush
Four of a kind
Full House
Flush
Straight
Three of a kind
Two pair
Jacks or Better
A Full Jacks or better is 9/6, which means that the payout for a full house is nine times the bet and for a flush it's ten times the best. For a Royal Flush it's 800 times the bet, which means that the probability is pretty low, only 0,000025.
Deuces Wild
We have to say something about Deuces Wild, since this is a good game to play if you use the perfect strategy. In this game all deuces are wild, which means they can substitute any other card. In this game three of a kind is the lowest rank to get paid, BUT the good news is that there are video poker machines that can offer a theoretical payout of 100,8 percent. That means that you in theory always can beat the house! And in how many casino games does that happen?
In this game the return for a Natural Royal Flush (without deuces) are 300 times the bet, which you can see is lower than in Jacks or Better.
Jackpots
We want you to know that some games offer a progressive jackpot, so if you want to go for the big bucks look for these games. A progressive jackpot is a jackpot that increases until it's hit.