New interest - online slots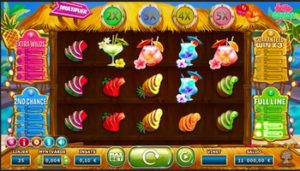 Hello there, it's been some time now since we wrote anything here. Well, now we're back a bit and we must say - we've been playing slots online! In one of our our previous posts, we said that we was not really happy about the RTP and payout about the slots. In comparison to video poker, it's a really bad deal for the players to play at online slots. We also said that we occasionally play slots for fun, and this is one of those times we've gotten stuck among the slots.
The slot in focus this time is Spiña Colada from Yggdrasil gaming. It's their brand new slot and it was launched just last week. Even though it may not have the best RTP (I'm not 100% sure what it is) it still seems to give some nice wins now and then. If you have played the slot Winter Berries, that's also from Yggdrasil, you'll quickly understand the way this slot works. It has a lot in common with Winter Berries, except from the theme of the slot then. This is much more of a summer and vacation-on-the-beach slot and Winter Berries is, well, more of a winter slot.
Spiña Colada takes you to a summer beach in a vacation paradise with drinks and fruit as far as you can see. Kiwi, pineapple, strawberries and all the other fruits that makes a great and luxury vacation just as good as it should be. It has free spins functions, full row functions, extra wilds and a guaranteed win and 3x win functions. In short it is a very rewarding slot that gives you a lot of opportunities to win.
I can recommend this slot to those who want some vacation at home, and enjoy the simplicity of life a bit. It is a slot that is very easy to play and you don't have to be a slot maniac to enjoy it. We can say that it is suitable both if you want to play with large as well as small bets since you can bet from 0,10 euros up to 125 euros. Want to play just for fun or just bet a little? Then go ahead. Want to win big and increase your bank roll? Then slots are not really for you, but Spiña Colada does a decent job sometimes.
However, you can find the slot at most casinos that has anything else from Yggdrasil Gaming. Thanks to the extra functions it becomes a bit more fun to play rather than just spinning without any action. Hope you like it as much as we do, and good luck with your bets!