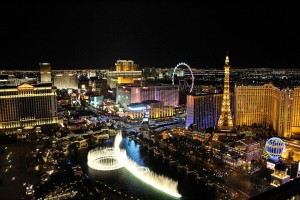 Well, as you might know by now we love playing online. But once in a while we miss the feeling of playing in a real life casino. And what better place to do it than in Las Vegas?
Flying to Las Vegas has become quite cheap with all the low price airlines. So we actually decided to go on a spontaneous trip Tuesday to Sunday to Las Vegas. Sure, Our girlfriends weren't too happy about it, but after some bribes they gave up. So now we had to win some money to pay for the spa and gifts we had promised them…
We have all been in Vegas before, but wanted a good location anyway. So we chose Mirage to be close to all the best casinos. In Vegas, you don't want to walk to far since the casinos themselves are huge. Otherwise taxi is a great and cheap option, which we used when we we're heading down town.
Although we love video poker, being in Vegas we are not limited to just video poker. Of course it's nice to sit down for a while in front of the machine while a waitress keeps serving you beer for $1 tip. But in Vegas we definitely recommend you the table games and perhaps a poker tournament. Well, at least when you're not hanging out in the bars and crazy nightclubs. Vegas has it all!
This time we played all types of games, but we actually didn't win so much… Perhaps that was because we didn't play so much video poker or because we were just crap. Of course we didn't tell our girlfriends about our not-winning-situation. We nicely obliged them and bought Michael Kors bags and souvenirs. Because who knows how much we are about to win next time 🙂
If you want to read more about Las Vegas, we recommend you to read about the gambling metropol here at Casinocenter.se. The site is in Swedish, but I'll guess you'll be fine using google translate if you don't understand Swedish.