Bonuses – not for video poker?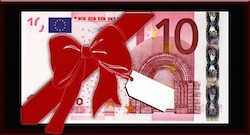 We are quit annoyed that a casino bonus often doesn't apply on video poker. Or at least that the wager requirements for video poker is so extremely high. It is something that we bump into almost every time we want to join a new casino that has some sweet video poker available.
Erik signed up for a casino the other day that offered 100% bonus on his deposit. And you'll think that's great, the casino will double my deposit so instead of having €100 to gamble with, I get €200. And sure, that's great in a way… BUT the casino has wagering requirements for the bonus. The casino Erik signed up for said that he has to wager the bonus x35. If we do our math properly, that means you have to play for €3500 before getting the bonus. Well, we say "Bye, bye, bonus" playing on regular slots since the expected return in slots is around 96% to the player. We want to wager playing video poker instead, since the expected return is so much higher and there is a bigger chance you get to keep the bonus. The return could be over 100 percent in video poker. But unfortunately it is really hard to find that. And perhaps it is because you can use more of a strategic mind in video poker than in other games, but still so bad.
But here the casinos are clever…. Because it's just the stakes at slots and a few other games that contribute with 100% to the wager requirements, while video poker contribute with a far less percentage. Maximum 20% of the stakes contribute to the requirements and sometimes NOTHING! So make sure to look this up before being to happy about a bonus….
Erik thought it was easier to play slots to wager his bonus, so he started out with Blood Suckers. But apparently that slot didn't fully contribute to the wager requirements either since the theoretical payout percentage is quite high, 98 percent. Next time we'll look this up before starting playing…. Otherwise we'll just end up annoyed again! So that's a tip for you. Here are more tips on choosing the right online casino.
In the end Erik found a slot that filled the requirements and it didn't take long until he had wagered his money and could switch over to the video poker and everything was alright again. But surely we will not accept this kind of requirements again. Unless there is acceptable to play on the poker of course. We have been thinking if there is a good idea to try to make the casino sites change their demands. You know like a demonstration? Everyone who are interested in this can send an email with our thoughts or something like that! The only thing that's going to be hard is that we have to be so many people to make this happen. Well maybe in the future or something! But we can only hope for better requirements from the casinos!