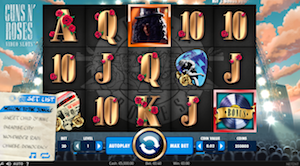 As much fun we think video poker is we also have to mention another great game that is similar to video poker, and that is slots. Like in video poker, slots consists of a machine on which you press a button to play. The good things about slots is that it is so easy to play and that you can receive very high winnings! The bad thing is, as we have mentioned before, that the payout isn't as good as in video poker.
Slots from the famous Swedish game developer NetEnt, usually has a bit higher payout than games from some other developers although the competition is getting tighter. NetEnt slots usually have a payout for 96,7-98,0 percent, but nowadays there are other slots in the market with even higher payout produced by other developers. We like that it is being more and more common with such a high percent.
Well, we talk a lot of payout percentage, but we are truly fascinated about this. If we just should compare the fun, we think video poker has another dimension to the game since you can effect some of the outcome yourself. But if you're not really concentrated or focused, perhaps slots is a better option in those situations. And if you don't want to use strategy slots is the thing for you.
Game developers nowadays have to be very creative to capture the player's interest since video slots could contain a lot of functions, features, extraordinary graphic and cool sound effects. Of course developers are aware of that they have to be the most appealing for players in order to draw customers and earn some money. Here are the Swedish Net Entertainment really one of the best, the have high percentage, 3D effects, bonus features and often free spins offers when they release a new game.
Personally, we play slots once in a while. Usually we bet quite a high amount when placing bets, since this is often more valuable. If you win, you win big! Sometimes we play slots that contains a progressive jackpot, but we are then aware that the jackpot contribute to the theoretical payout, which can make the winnings a bit smaller. If we aren't lucky enough to hit the jackpot…. But so far, none of us has been that lucky. Sometimes it's worth a chance though… 🙂 Also, some video poker games also contains a jackpot which you normally hit when getting a Royal Flush. Perhaps this can be an option when deciding which games to play.
By the way, the new game Guns N'Roses, check it out! One of NetEnts creations and one feature is to choose a song from the band to listen to while you're playing! We have actually made a lot of winnings on this slot machine and it was good fun playing. You'll find it at most iGaming companies with a wide selection from NetEnt. If you're interested in reading more about slots  you can find some information at the Swedish gambling site Casino Omega.
Have fun!