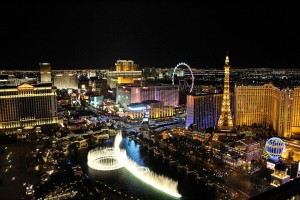 Well, as you might know by now we love playing online. But once in a while we miss the feeling of playing in a real life casino. And what better place to do it than in Las Vegas?
Flying to Las Vegas has become quite cheap with all the low price airlines. So we actually decided to go on a spontaneous trip Tuesday to Sunday to Las Vegas. Sure, Our girlfriends weren't too happy about it, but after some bribes they gave up. So now we had to win some money to pay for the spa and gifts we had promised them…
We have all been in Vegas before, but wanted a good location anyway. So we chose Mirage to be close to all the best casinos. In Vegas, you don't want to walk to far since the casinos themselves are huge. Otherwise taxi is a great and cheap option, which we used when we we're heading down town.
Although we love video poker, being in Vegas we are not limited to just video poker. Of course it's nice to sit down for a while in front of the machine while a waitress keeps serving you beer for $1 tip. But in Vegas we definitely recommend you the table games and perhaps a poker tournament. Well, at least when you're not hanging out in the bars and crazy nightclubs. Vegas has it all!
This time we played all types of games, but we actually didn't win so much… Perhaps that was because we didn't play so much video poker or because we were just crap. Of course we didn't tell our girlfriends about our not-winning-situation. We nicely obliged them and bought Michael Kors bags and souvenirs. Because who knows how much we are about to win next time 🙂
If you want to read more about Las Vegas, we recommend you to read about the gambling metropol here at Casinocenter.se. The site is in Swedish, but I'll guess you'll be fine using google translate if you don't understand Swedish.
We have already implied that Deuces Wild is one of our favorite games. But we have discovered that we like it more than ever. In this game all twos are wild, which means they can be a substitute for any card. This also means there are some different combinations in Deuces Wild compared to Jacks or Better. These different combinations includes a wild card, like five of a kind is quite impossible to get with a regular deck without using wilds.
When betting 5 credits full-pay Deuces Wild slot gives you a payout of:
Natural Royal Flush – 4000
Four Deuces - 1000
Wild Royal Flush - 125
Five of a Kind – 75
Straight Flush – 45
Four of a Kind - 25
Full House - 15
Flush – 10
Straight – 10
Three of a Kind - 5
According to the Wizard of Odds you can get up to 100,76% return on Deuces Wild when using an optimal strategy. Even with a simple strategy you can get an expected return of 100,71%. And that's why we love the game, because in theory – the player always win!
Here is the Wizards simple strategy:
4 deuces
4 deuces
3 deuces
Pat royal flush
3 deuces only
2 deuces
Any pat four of a kind or higher
4 to a royal flush
4 to a straight flush with 2 consecutive singletons, 6-7 or higher
2 deuces only
1 deuce
Any pat four of a kind or higher
4 to a royal flush
Full house
4 to a straight flush with 3 consecutive singletons, 5-7 or higher
3 of a kind, straight, or flush
All other 4 to a straight flush
3 to a royal flush
3 to a straight flush with 2 consecutive singletons, 6-7 or higher
deuce only
0 deuces
4,5 to a royal flush
Made three of a kind to straight flush
4 to a straight flush
3 to a royal flush
Pair
4 to a flush
4 to an outside straight
3 to a straight flush
4 to an inside straight, except missing deuce
2 to a royal flush, J,Q high
Why not try out these strategies for free? You can play free video poker at many casinos, like for example Unibet. We have been quite lucky when playing this game, so we can definitely recommend you to give it a go! The optimal strategy is even better, with a theoretical return of 100,76 as mentioned. But since this is more complex we usually stick to the simple strategy. Please tell us if you try out our new favourite kind of game! Perhaps you also find this to be your new game. Maybe, maybe not!
Except for that we have som other news! Tobias is now a father, how cool isn't that? It was last Monday that his little first baby was born. Everything went great and the family is healthy and home now. The best thing about this is that we now have planned a new poker night, so that everyone get to meet the baby also! I am really looking forward to this and hopefully we can try to get our girlfriends to joins us this time. Not for long, more like a fun night. Alright, that was all for now! Have a good night.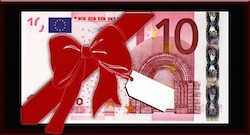 We are quit annoyed that a casino bonus often doesn't apply on video poker. Or at least that the wager requirements for video poker is so extremely high. It is something that we bump into almost every time we want to join a new casino that has some sweet video poker available.
Erik signed up for a casino the other day that offered 100% bonus on his deposit. And you'll think that's great, the casino will double my deposit so instead of having €100 to gamble with, I get €200. And sure, that's great in a way… BUT the casino has wagering requirements for the bonus. The casino Erik signed up for said that he has to wager the bonus x35. If we do our math properly, that means you have to play for €3500 before getting the bonus. Well, we say "Bye, bye, bonus" playing on regular slots since the expected return in slots is around 96% to the player. We want to wager playing video poker instead, since the expected return is so much higher and there is a bigger chance you get to keep the bonus. The return could be over 100 percent in video poker. But unfortunately it is really hard to find that. And perhaps it is because you can use more of a strategic mind in video poker than in other games, but still so bad.
But here the casinos are clever…. Because it's just the stakes at slots and a few other games that contribute with 100% to the wager requirements, while video poker contribute with a far less percentage. Maximum 20% of the stakes contribute to the requirements and sometimes NOTHING! So make sure to look this up before being to happy about a bonus….
Erik thought it was easier to play slots to wager his bonus, so he started out with Blood Suckers. But apparently that slot didn't fully contribute to the wager requirements either since the theoretical payout percentage is quite high, 98 percent. Next time we'll look this up before starting playing…. Otherwise we'll just end up annoyed again! So that's a tip for you. Here are more tips on choosing the right online casino.
In the end Erik found a slot that filled the requirements and it didn't take long until he had wagered his money and could switch over to the video poker and everything was alright again. But surely we will not accept this kind of requirements again. Unless there is acceptable to play on the poker of course. We have been thinking if there is a good idea to try to make the casino sites change their demands. You know like a demonstration? Everyone who are interested in this can send an email with our thoughts or something like that! The only thing that's going to be hard is that we have to be so many people to make this happen. Well maybe in the future or something! But we can only hope for better requirements from the casinos!
It was time, our poker night was about to happen! And it was truly a great day for us. Since we haven't seen each other for a while we were really looking forward to this get together. I myself had saved some extra money so that I could play without the feeling of spending money i must have for other things like rent or food. No it was only money to spend on fun!
We just have to share – we made some great winnings today! All three of us! We sometimes have poker nights. Not regular poker nights playing Texas Hold'em at the poker table. No, we have video poker nights. That means we get together for a couple of beers, preferable Sierra Nevada, and some junk food and play video poker until the middle of the night using our computers, iPads or mobiles. Or until we loose our money. But as we said before, that's a good thing about video poker since it takes a lot of time before you loose your budget unless you're a really bad player or a very big gambler. So the nights are often at our advantage since we usually have saved up some money for these nights. You don't want to feel like your are spending your or your familys money if you loose. You want to be able to enjoy the money so please try to keep that in mind! We always set at limit before we start playing. So if someone has lost there money we don't lend to each other. Instead we usually stop playing before someone loses all money. Just because we want to end the night with some beer at a local pub and it's not that fun for the person who has got no money left.
Anyway, after eating our burgers and having a couple of beers we started playing. We all started of playing Jacks or Better, and while Erik had a winning strike, Tobias started loosing. He was almost bound to give up when it happened – a Royal Flush! How big are the odds for that happening?? We read somewhere it's over 40 000 to 1. Unfortunately it wasn't a game that had a progressive jackpot, but he made a big win anyway. Tobias actually kept on wining more hands, before he called it a night. The rest of us switched to Deuces Wild and had some good fortune. Or perhaps we just played clever since we used basic strategy. We followed the example here. Unfortunately this is a Swedish site but perhaps you can translate it in Chrome, or google "Basic Strategy Deuces Wild" to get an English version. The payout percentage using the strategy you'll find here in Casinosnack is over 100 percent and we all made a profit this night. We won't tell you how much thought, because unfortunately we spent most of it in the pub afterwards… 😉 Luckily for Tobias, he already had gone home and went to sleep, so the winnings from his Royal Flush still exists in his hands.