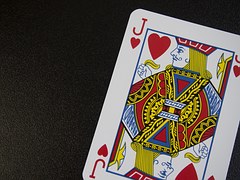 Welcome back all poker lovers! So,since you  now have learned how to play video poker we thought we could teach you something else ! Starting with the common game Jacks or Better we will share some of the strategies we have picked up.
For Jacks or better the full pay machine (9/6) is as follows:
Royal Flush
- 800
Straight Flush
- 50
Four of a kind – 25
Full House – 9
Flush - 6
Straight
- 4
Three of a kind
- 3
Two pair
- 2
Jacks or Better - 1
There are two strategies for Jacks or Better. The following is a simple strategy and when using this on a full pay machine (standard is 9/6) the expected return is 99,46%.
At least according to Wizard of odds where we found the following simple strategy:

Four of a kind, straight flush, royal flush
4 to a royal flush
Three of a kind, straight, flush, full house
4 to a straight flush
Two pair
High pair
3 to a royal flush
4 to a flush
Low pair
4 to an outside straight
2 suited high cards
3 to a straight flush
2 unsuited high cards (if more than 2 then pick the lowest 2)
Suited 10/J, 10/Q, or 10/K
One high card
Discard everything
Misstakes cost 0,08% or one total bet every 1178 hands.
The Wizard of odds also gives an optimal strategy, but in our opinion it's too long to learn. But using it on a full pay machine the expected return is 99,54%. When using this strategy you shall take a good look at your hand and find out every way to play it and then choose the play that's highest on the list.
Dealt royal flush (800.0000)
Dealt straight flush (50.0000)
Dealt four of a kind (25.0000)
4 to a royal flush (18.3617)
Dealt full house (9.0000)
Dealt flush (6.0000)
3 of a kind (4.3025)
Dealt straight (4.0000)
4 to a straight flush (3.5319)
Two pair (2.59574)
High pair (1.5365)
3 to a royal flush (1.2868)
4 to a flush (1.2766)
Unsuited TJQK(0.8723)
Low pair (0.8237)
4 to an outside straight with 0-2 high cards(0.6809)
3 to a straight flush (type 1) (0.6207 to 0.6429)
Suited QJ (0.6004)
4 to an inside straight, 4 high cards (0.5957)
Suited KQ or KJ (0.5821)
Suited AK, AQ, or AJ (0.5678)
4 to an inside straight, 3 high cards (0.5319)
3 to a straight flush (type 2) (0.5227 to 0.5097)C
Unsuited JQK (0.5005)
Unsuited JQ (0.4980)
Suited TJ (0.4968)
2 unsuited high cards king highest (0.4862)
Suited TQ (0.4825)
2 unsuited high cards ace highest (0.4743)
J only (0.4713)
Suited TK (0.4682)
Q only (0.4681)
K only (0.4649)
A only (0.4640)
3 to a straight flush (type 3) (0.4431)
Garbage, discard everything (0.3597)
There are some are exceptions for specific hands, but you should really go to the Wizard to see them. We almost always use the simple strategy, because we want to enjoy ourselves while playing and that's easier when the game is more simple. The Wizard also provides an Intermediate strategy, but the simple and optimal strategy are more common, so that's why we just talk about them here.
At Casinosnack you can play Jacks or Better for free to try the strategies! Please leave a comment on how your gambling went, we are eager to hear! Also if you have something on your mind or simply wants us to write about something special, feel free to contact us.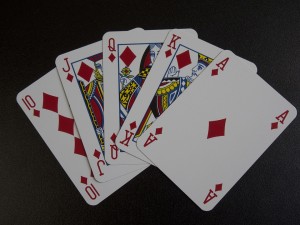 We think it's very easy to play video poker and we are sure you will too! Have you never played poker before you'll get the hang of it very quickly. There are some different type of video poker games, but they are all quite simple to learn.
Well, in our last post we talked about finding the right casino. Now you will learn how to play video poker! So, now imagine that you now have found the right casino and head of to the section video poker. Here you will find several games and we'll take an example with Jacks or Better. If you haven't played before start with fake money, so you'll get a hang of it before betting real money.
Place your bet and make sure it's the right amount of credits before you press the "deal button". You don't want to exceed your budget too fast. Press the "deal button" and then the machine deals you five cards. By tapping on the cards or press hold you decide which cards to keep. Then hit the "Draw button" again to get new cards in replacement of the ones you didn't keep. In the payable you can see your potential winnings. The paytable is visible in the video poker game, often above your cards. You can see that the amount of your winnings is related to the amount of credits you have played. That's why you should always play the maximum amount of coins since the winnings then are higher.
In some video poker games you are allowed to double your winnings. Let's say if you have Jacks or Better (see the hand ranking here), you can double your winning by choosing a card. If you beat the dealers card, you double up but if you don't beat the dealers card you loose your winnings from that hand.
What do you think about that? doesn't it sound easy?! Well if you don't think so then you should take our advice and start to play for free so that you get the hang of it, and when you are comfortable with the game you are ready! If you are beginner and starts playing, please write about your experience and how you feel about it. we think it would be really fun to hear from you! You can also write questions if there is something that you came to think of when you started playing.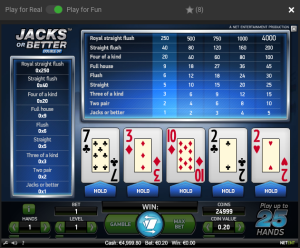 We'll start this blog with what to do before you can start playing video poker online. And that is finding a good casino and then register.
To get access to the games you have to register at an online casino. Nowadays there are a good variety to chose from, so you'll have to look around a little to see which ones you like. If you prefer another game, instead of just video poker take a look at the selection of games at the casino you are about to chose. And also make sure that it's a safe casino. Read on forums and take a look at independent reviews to get an idea about the casino. Also make sure it has the latest version of SSL and have a proper license. We also think it's important you can that you can make an easy and quick withdrawal from the casino. You don't want the casino to hang on to your winnings if you don't intend ta play more.
We have tried quite a lot of online casinos, but were not here to recommend you on one. We want you ta make your own opinion about what you are looking for. But some of the things we look for when choosing an online casino are basically:
- Game variety: Both video poker and other games
- Bonuses and promotions; do they apply on video poker
- Security
- What experience the casino has; is it old or brand new? Will it close again in a month?
- Licenses
- Fast withdrawals
- The gaming experience; is the casino modern and puts the player in focus?
These are some of the criterias we think is important when choosing where to play. We can also give you a tip to search for bonus codes before register. Sometimes the casino makes deals with online gaming sites to give their visitors special treatment by providing them a bonus code. That means extra bonus for you!
Once you have found a casino, register by filling out you personal information like name and address. To play with real money you have to make a deposit, otherwise you can start with fake money. In fact, that's a good idea to do before spending real money. In that way you can try out the game and see how you are doing, are you good or not. And if you have a bit hard time to learn, you won't have to spend money on bad gambling. You can simply use real money when you feel ready to.
Always remember to play responsible though. And if you feel like you are having a gambling addiction you should ask for help. Nobody feels good with an addiction and believe us, there are help out there for you. Otherwise if you don't see any problem with it you can easily have a great time with poker, and we really hope that you get a great experience.