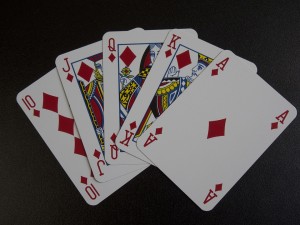 We think it's very easy to play video poker and we are sure you will too! Have you ever played poker before you'll get the hang of it very quickly. There are some different type of video poker games, but they are all quite simple to learn.
Well, in our last post we talked about finding the right casino. Now you will learn how to play video poker! So, now imagine that you now have found the right casino and head of o the section video poker. Here you will find several games and we'll take an example with Jacks or Better. If you haven't played before start with fake money, so you'll get a hang of it before betting real money.
Place your bet and make sure it's the right amount of credits before you press the "deal button". You don't want to exceed your budget too fast. Press the "deal button" and then the machine deals you five cards. By tapping on the cards or press hold you decide which cards to keep. Then hit the "Draw button" again to get new cards in replacement of the ones you didn't keep. In the payable you can see you potential winnings. The paytable is visible in the video poker game, often above your cards. You can see that the amount of your winnings is related to the amount of credits you have played. That's why you should always play the maximum amount of coins since the winnings then are higher.
In some video poker games you are allowed to double your winnings. Let's say if you have Jacks or Better (see the hand ranking here), you can double your winning by choosing a card. If you beat the dealers card, you double up but if you don't beat the dealers card you loose your winnings from that hand.